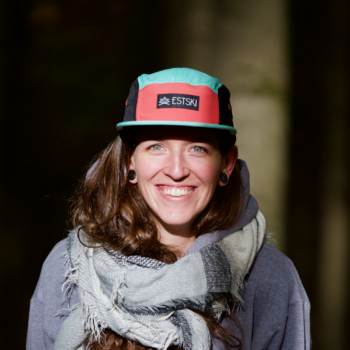 Date of Birth
04.12.1993
From
Montreal, Quebec
Home
Currently Barcelona. But living the buslife
Passions
Snowboarding, hiking, biking, climbing, travelling
Favorite Spot
Revelstoke, British Columbia
Living in her self-converted yellow school bus, Ariane is a fully devoted french canadian skibum.
She started snowboarding at 9 years old (27 now). 17 years or so then 🙂 and she has been a snowboard instructor for 10 years back home.
She has a background  of a few years of Snowboardcross and Giant Slalom races and was introduced to Freeride competitions during one of her Winters in Innsbruck. She made it on top of the qualifiers ranking the next year!
Her goals : Inspiring women to push the limit of the sports and be full-on bad-ass!  Whoelse could do it better than a bad  ass woman herself.  + Promoting Freeriding and Backcountry skiing in Eastern Canada is a high priority on her list.
Right now she is doing a Master in Sustainable Tourism in Barcelona. And she is invested with POW Montreal. Wishing to be part of the changes in the ski industry and around, so we can keep skiing on snow in 50 years.
Season 20/21 should be all about doing the 4* FWQ around Europe. If that works out or not we are always happy to welcome her in Innsbruck and go riding with her.
You can find more information on Ariane on her social media channels: Check out this super rad girl.